RCD Espanyol vs Dep. La Coruña THU, 20 DEC 2012, 22:00
Info
RCD Espanyol vs Dep. La Coruña played: THU, 20 DEC 2012, 22:00, Power8 Stadium

Please remember:
* When collecting the tickets you must show a valid photo ID and proof of purchase by bringing the credit card you used when booking the tickets.
* The final date and time are confirmed 4-10 days prior to the match date. If in doubt please check the club website.
* You will NEVER get any single seats. You will always get seats next to your friends, right in front or right behind your friends if you book together. This is our guarantee from us to you!
* You will always be seated amongst the home supporters.
* You will need to collect the football tickets from our agent´s office in the centre of Barcelona, BEFORE you go to the football match. The address, opening hours, and other important information you need will be included on the booking confirmation sent to your e-mail address. It can also be found on our site under CONTACT. NB. Please note there are different opening hours for FC Barcelona and RCD Espanyol.
* Please, read the following Terms and conditions carefully, before you complete your booking.

On the adjacent tab you can see more about the seating and categories you can book for your football match.
From £ 62
Category
CATEGORY LONGSIDE : Seats on one of the 2 long sides/touch lines (stands) on the stadium.
CATEGORY SHORTSIDE : Seats on one of the 2 short sides (stands) behind the goal ion the stadium.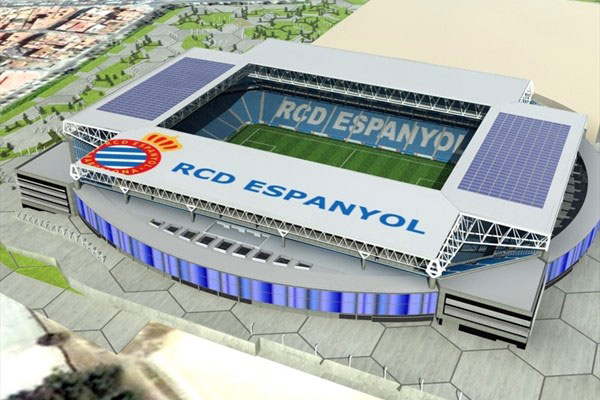 Arenainfo
Power8 Stadium
Capacity
40500
Address
Avinguda del Baix LLobregat,
08940 Cornellà de Llobregat



View map
The season is over. Tickets for next season will be on sale in June–. Please check the website for details.