Tickets to FC Barcelona
Welcome to BarcelonaFootballInternational.co.uk, the site for football fans who would like to buy tickets to FC Barcelona or RCD Espanyol in either La Liga, Copa del Rey or to European matches at Camp Nou or Cornellá stadium. Here you can easy, quickly and safely book tickets to FC Barcelona and RCD Espanyol before you leave home!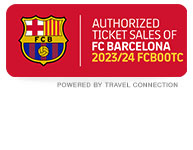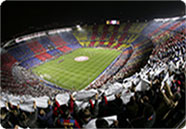 Camp Nou, FC Barcelona's home stadium
See a match at one of the world's greatest stadiums, the Camp Nou, FC Barcelona's home stadium with room for more than 98,000 spectators.

Seatingplan
Why shop with us?

Authorized Ticket Reseller

Guaranteed to be seated together

You pay in pounds with no hidden fees

Over 2 million tickets sold

100% Secure Booking
The season is over. Tickets for next season will be on sale in June–. Please check the website for details.